X-rings are circular fourlipsed sealing elements. They can be used in a wide variety of applications, but most such physical seal, for example sealing piston rods, cylinders etc. Using of x-rings is restricted by pressure and the speed of movement. Because of their shape they can be used in grooves with a square section.
Against O-rings have X-rings the following advantages:
Because of a special profile there is no tend to skew while sliding movement in the groove
Low friction by lower requirements for compression
Very good sealing efficiency
Supply of lubricant, which is formed between the sealing lips facilitate the first movement when starting
The parting plane is located between the sealing lips
The size of the X-ring is determined by its internal diameter and thickness.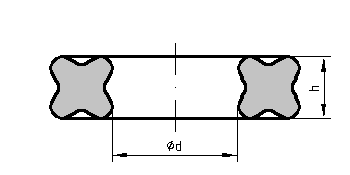 The most used materials of X-rings:
NBR – for everyday use
FPM sometimes called FKM, or Viton) – more resistant to high temperatures and chemicals
Mounting method of X-rings should be taken into account already in the design of the device. To avoid damaging the X-ring is not recommended to install it over edges or undercuts. Where it is assumed long sliding movement, the sealing point should preferably be recessed, or the installation space should be designed so that the X-ring during the assembly had moved through the shortest distance.
Elastomers which are used to manufacture X-rings, are able to conform to irregular surfaces under pressure, but even so are unacceptable surface defects such as scratches, pits, spiral grooves etc. Generally, if the requirement for tightness grows (e.g. in the sealing gas), than there must be greater demands on the quality of the sealing surface. The surface quality must be higher in dynamic applications than for static applications.