O-rings are circular sealing elements with high precision. The most suitable application of the O-ring is static. For dynamic applications, there are certain limitations that must be respected. O-rings are subject to high abrasion, so it is important to comply with the limit values of pressure, temperature, type, medium, roughness surfaces, the size of the sealed space etc.. Size, materiál, hardness of O-rings and engine installation space dimensions are determined by various national and international standards, among which there are many different standard sizes.
The size of the O-ring is determined by its internal diameter and cross-sectional diameter.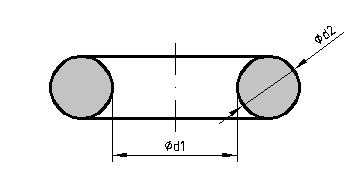 The most used materials of O-rings:
NBR
EPDM
FPM - viton
MVQ - silicon
Each of the materials can have different hardness. Frequently hardness are 60, 70, 80 and 90 according to the scale of Shore A.
The size of the groove and thus the sealing pressure is dependent on the use of hydraulic or pneumatic elements. When selecting the width of the groove it is important to ensure that was wider than the deformed O-ring. The exact dimensions of grooves manufacturers indicate depending on the size of the O-ring.